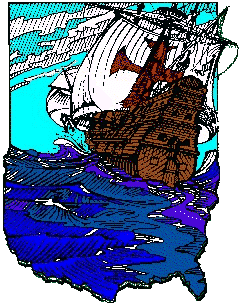 &nbsp &nbsp Home &nbsp &nbsp &nbsp Reference &nbsp Census Records &nbsp Military &nbsp Other States &nbsp New Titles &nbsp E-BOOKS&nbsp&nbspFREE SHIPPING

Iberian Publishing Company's On-Line Catalog:
Montgomery County Virginia
---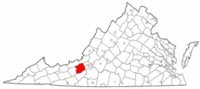 Montgomery County was established in 1776 from the northeastern part of Fincastle County (now abolished). The county's name honored General Richard Montgomery, killed during the assault on Quebec late in 1775. At the time of its creation, Montgomery covered nearly 12,000 square miles and extended westward to the Ohio River. In 1777 the western half of Montgomery was cut off to form Greenbrier County. Following this division, Montgomery County was still immense. Its territory included all or part of the following counties: Buchanan, Craig, Giles, Pulaski, Roanoke, Tazewell, Wythe and the West Virginia counties of Boone, Cabell, Fayette, Kanawha, Lincoln, Logan, McDowell, Mercer, Mingo, Raleigh, Summers, Wayne, and Wyoming. A portion of Kanawha County was separated from Montgomery in 1788. In 1794 the boundary between Montgomery and Grayson was adjusted and the following year (1795) the line between Botetourt and Montgomery was altered slightly (a further alteration of this second line occurred in 1796) In 1808 Giles County was formed from part of Montgomery, followed by Floyd County in 1831. In 1839 another part of Montgomery was transferred to Floyd County. in 1840 a single farm was transferred back to Montgomery's control. In 1842 part of Pulaski County was given back to Montgomery. In 1849 Roanoke County annexed an adjacent portion of Montgomery lands and in 1853 part of Montgomery was added to form Craig County. Montgomery's boundaries stabilized at that point.
---
For a better understanding of county boundary changes, see our new section Virginia in Maps
---

MONTGOMERY CO., VIRGINIA COURT ORDERS, 1777-1788: From Order Books 1, 2, 3 and other sources transcribed & edited by Karen Wagner Treacy. 10 1/2 x 8 1/2, viii, 333 pages, index.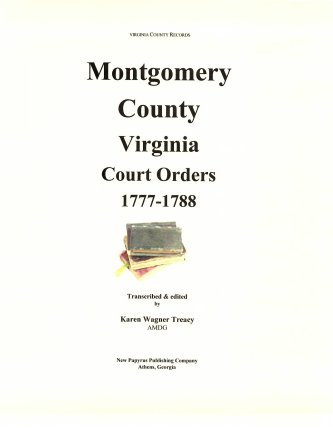 From the author's Intruduction:
This work includes three volumes of Montgomery County Court Orders, which are not numbered in chronological order. Montgomery County was formed from Fincastle County in 1777. Fincastle's records are contained in the first half each of two volumes. Montgomery County records commence sequentially at the end of Fincastle's records, as the second half of volume 2, 1777-1782, ending with a note "The minutes from this period until August 1782 are not [ ] this office [ ]". Volume 3 covers the period 1778-1780. Next we return to the second half of the first volume of Fincastle records, which covers 1785-1788, leaving a gap between 1782 and 1785, and an overlap between 1780 and 1782. Further complicating this picture is the presence of a completely detached portion of a minute book and docket from 1779, located in the archives of the Virginia State Library. Where is the rest of that volume?

In this work the three volumes are given in approximate chronological order, with volume 2 as Part One, volume 3 as Part Two, and volume 1 as part Three. The fourth portion of this work is Additional Material, including the partial minute book/docket mentioned above, grand jury presentments, warrants and other documents pertaining to some of the cases, and the minutes, from the Draper manuscripts, of a joint session of Montgomery and Botetourt Courts for the trials of suspected Tories.

I have reproduced the original spelling, abbreviations, formatting and tone of the original as best I could, although I have omitted doubled words and added some punctuation and capitalized all personal names in the minute books. The additional material I chose to reproduce as found.

A large part of these minutes consists of lawsuits. There are very few clues to identify participants in the majority of suits, which are generally styled only by surnames. I have chosen to give only the names of the participants. In some cases a paragraph of 'boilerplate' accompanies the entry, in more cases there is just a notice of the principals. Rather than transcribe the details of continuances, writs of alias and pluvias capias, pleas, conditional judgments and so forth, I truncated them to a very few details (verdicts in jury trials, judgments involving property rather than money, points of law). However, all names mentioned in the proceedings are included in context (special bail, garnishees, jurymen, witnesses)......


Surname list


[MTC1] $39.95


---

MONTGOMERY CO., VA 1810 CENSUS transcribed by John Vogt. 10 1/2 x 8 1/2, x, 39 pages, illustrations, maps, index. This is the first surviving census for Montgomery, since both the 1790 and 1800 censuses have been lost. A full name index is provided. Montgomery was an important and populous county in the mountainous foothills of southwestern Virginia and it was situated along the Great Road or Valley Road as it was called, which stretched from Maryland to the Cumberland Gap and beyond into Tennessee and Kentucky.

This and other 1810 censuses are transcribed by the author from the original images, and while many of Virginia's censuses are available online, they oftentimes are replete with misreadings.Caveat emptor!
[MNT10] $11.00 &nbsp &nbsp (printed version)


---
The above title is also available as a digital e-book in PDF format:&nbsp &nbsp &nbsp &nbsp HOW TO ORDER

[EMNT10] $8.00 &nbsp &nbsp (electronic version)


---
MONTGOMERY COUNTY, VIRGINIA: THE FIRST 100 YEARS by Judge C. W. Crush. ii, 209 pages, 8˝ x 11, index. Montgomery County, Va. was a "stem" county for much of the western expansion, and sets astride the great migration trails west and south. The author has transcribed original sources which elucidates the history of this county's first century through the period of the late nineteenth century. A sampling of the documentation includes personal diaries, military roles, county court records, reminiscences of past citizens of the county, and a wide range of other valuable sources. This volume is destined to be a "classic" for references to the earliest records of Montgomery and its subsequent divisions.
[MTGS] (paper) $31.95


---
Montgomery Co. 1815 Directory of Landowners by Roger G. Ward. 2005. 33 pages, map, 5 1/2X8 1/2.
For a full description of the 1815 LAND DIRECTORY Records and a listing of available counties, see: Individual County Booklets, 1815 Directory of Virginia Landowners

[Vd69] $8.00

---
Montgomery Co. Revolutionary Public Claims transcribed by Janice L. Abercrombie and Richard Slatten.. 2005. 21 pages, 5 1/2X8 1/2.
For a full description of the Virginia Revolutionary Public Claims and a listing of available counties, see: Revolutionary "Publick" Claims series

[Pc46] $6.00 &nbsp &nbsp (printed version)


---
The above title is also available as a digital e-book in PDF format:&nbsp &nbsp &nbsp &nbsp HOW TO ORDER

[EPc46] $3.50 &nbsp &nbsp (electronic version)


---
For more records pertaining to MONTGOMERY COUNTY, VIRGINIA see also:
MEN IN GRAY INTERMENTS series

and the following counties which once formed Greater Montgomery County at its inception:

Giles, Pulaski, Wythe, Greenbrier, Buchanan, Craig, Floyd, Roanoke, Tazewell, Boone, Cabell, Fayette, Kanawha, Lincoln, Logan, McDowell, Mercer, Mingo, Raleigh, Summers, Wayne, and Wyoming Counties, plus the now extinct county of Fincastle.
---
|| Virginia/W.Va. || General Reference || Military Records ||
|| Other States || Genealogy Links || New Titles

|| Home Page || E-Books ||
---
Copyright © 2015 Iberian Publishing Company