New Papyrus Publishing Company's On-Line Catalog:
Summers County West Virginia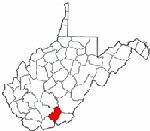 Summers County was formed in 1871 from portions of Fayette, Greenbrier, Monroe, and Mercer counties. Settlement of the region had begun in the 1750s.
---
For a better understanding of county boundary changes, see our new section Virginia in Maps
---

For records pertaining to SUMMERS COUNTY, WEST VIRGINIA see:

&nbsp

To order by phone, call 1-706-546-6740 M-F 8a-6p EST.
You may call the number above during business hours to check the status of an order, or
E-mail us
Click here for mail-order instructions.





To order by phone, call 1-706-546-6740 M-F 8a-6p EST.
You may call the number above during business hours to check the status of an order, or
E-mail us

Please see our HELP PAGE for mail-order instructions, wholesaler policies and other contact information.

We specialize in records for Virginia 1650-1900.
Use these convenient pull-down menus to jump quickly to a county of interest:

---
|| Virginia/W.Va. || General Reference || Military Records ||
|| Other States || Genealogy Links || New Titles

|| Home Page ||
---
Copyright © 2012 New Papyrus Publishing Company