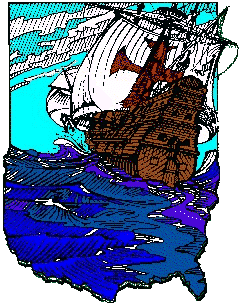 &nbsp &nbsp Home &nbsp &nbsp &nbsp Reference &nbsp Census Records &nbsp Military &nbsp Other States &nbsp New Titles &nbsp E-BOOKS&nbsp&nbspFREE SHIPPING

New Papyrus Publishing Company's On-Line Catalog:
Independent City of Alexandria
Located in Fairfax and Arlington Counties; established in 1748 as a small trading post, but the earliest settlement on the site dates from ca. 1669; First known by the name of Hunting Creek Warehouse, then Belhaven; incorporated as a town in 1779 and named for John Alexander, an early property owner of the tract on which the town was located; organized as an independent municipality 27 February 1801 from a portion of Fairfax County; established as a city in 1852. During 1863-65 the city served as the capital for the "Restored Government of Virginia" as designated by Union forces. In 1870 Alexandria became an independent city and organized a Corporation Court, equivalent to the county Circuit Court system. Alexandria County was extinguished in 1920 when the remaining portion not within the city's limits were renamed Arlington County. Alexandria City's court records begin in 1780-82; however, its marriage records date from 1870.

---

VIRGINIA MERCHANTS: WILLIAM HODGSON OF ALEXANDRIA: HIS DAYBOOK FOR 1800-1803 by Charles Hamrick. 1997,2011 IV, 111 pp., index of names.William Hodgson (1765-1820) was a native of White Haven, England, born in 1765; emigrated to America, and settled in Alexandria, about the year 1785. In 1790, Hodgson bought a house at 207 Prince Street. After his marriage to Portia Lee (1777-1840) in May1799 he conducted a dry goods business on the first floor, using the upper floors for family quarters. From the Day Book presented here, it is clear that Hodgson's commercial ventures were spread across a vast area, with Hodgson frequently involved with ship cargoes from the Caribbean, England, and the Continent. Hodgson's business thrived, and in 1806 he acquired a second house on Prince Street, between Fairfax and Water Streets, to handle the growing stocks of goods. In addition, Hodgson maintained a frame warehouse adjoining his primary business at 207 Prince Street.

More than 700 items are listed in Hodgson's inventory of goods, ranging from the finest livery for ladies and gentlemen to the ordinary nails, axes, adzes, and tools for the workman. Through his wife, Hodgson had access to the elite of the city at that time, and the most notable of his clients was Martha Washington. He also conducted long-range ventures in the Caribbean and Europe. The entries not only give an accurate account of business dealings of the time, but they offer a rare window into the lifestyle and buying habits of early nineteenth century townfolk. What is remarkable is the prolific selections of goods which were purchased from this "drygoods" dealer.

From the index: Allison, Amos; Allmand, Harrison; Anderson, Mr.; Armstead; Armstrong; Ash, William; Beale; Beatty, Thomas; Bennett & Watts; Bennett, Charles; Blair, David & James; Botts, Benjamin; Bragg, Henry; Brent; Broadfield; Brown, John; Brown, Mr.; Brown, River & Co.; Brundige, Timothy; Buck, Anthony; Bushby; Call, Daniel; Camp; Campbell, George; Carolin, H; Carolin, James; Caroling, James; Carr, Joseph; Carter, George; Cazenove, Anthony Charles; Cazenove & Co.; Chapman C T; Chapman, Thomas; Clagett; Clementson, George; Cocke, B; Conway, Richard; Cooke, Adam; Coupar, Henry; Craik, Geo Washington; Craik, Dr.; Craik, Mrs.; Dandridge, B; Davidson, John; Davis, Baalis?; Dawes; Day, Benjamin; Derry, T; Dick, E C; Donaldson; Doyle, Alexander; Dunbar & Voss; Dunlap, John; Dykes, James; Dyson, James; Dyson, Joseph; Dyson, Mrs.; Easton, David; Felicity; Fitzhugh; Forrest & S; Foster, F; French; Gallagher, Bernard; Gibson, George; Gibson, William; Gird, Christopher; Glanney; Glennie, A; Glenny; Goodwin; Gray, Vincent; Gretter, Margaret; Gretter, Mrs.; Grey, Vincent; Hackley, R S; Hall, J; Hall, William J; Hall & Hodgson; Hamilton, Dr; Hampson, Bryan; Haney, John; Hardy Co.; Harper, Joseph; Harper, Samuel; Harper, William; Harrison, Benjamin; Harrison, George; Harrison, Richard; Harrison, Thomas; Harvy; Haskins; Hay; Heiskill, Peter; Henderson, Alexander; Henderson, Benjamin; Henderson &Co., Alexander; Herbert, William; Hitt; Hodgson, Peter; Hodgson, William; Hodgson & Hall; Hoffman, Jacob; Holliday, J; Hollingsworth; Hooe & Co., R T; Hooe, Robert T; Hooff, Lawrance; Hoofman, Jacob; Hoye, John; Hull; Hunter; Hurdack, William; Ingles & Co.; Irving, Thomas; Irving & Co., Reed; Irwin, Thomas; Jackson, Edward; Jamesson, Robert B; Jamieson, Andrew; Jamisson, R B; Janney, A[quilla]; Janney, E[lisha]; Janney, J; Janney & Patton; Jolly, John A; Jones; Jones, C; Kelty?; Kemp, James; Kennedy, James Jr.; Kercheval; Knox; Knox, John; Lamb; Lee, Edmund J; Lee, Richard B; Lees, Charles; Lindsay; Love; Lowndes, Benjamin; Lyles; Mackie; Magree, Cha; Marl?; Marsteller, Philip G; Mason, John; Mason, Mrs.; Mayson, Richard; Mayson, Sarah; Mason, Thomas; Mason, Thompson; Mathews, Thomas; Maury; Mayson, Richard; Mayson, Sarah; Mayson, Thomas; McCall; McCliesh, James; McCliesh, Mrs.; McDonald? & Hickman; McFadon & Co.; McGowan; McHenric; McIver, John; McKinzie, James; Mcloud, D; Mease, Robert; Melvin, William; Metcalf, A; Middleton, Thomas; Minor, John; Moore, Cleon; Moore, Henry; Moore, J; Moore, T; Morris, John; Moyers, John; Mundall, John; Mundell, John Thomas; Murray; Muschett; Nelson; Newton, William; Newton & Rickets; Orr; Overton; Oxley, William; Page, Mrs.; Page, William B; Patterson, William; Patton, James; Patton, Robert; Patton & Dykes; Pearce, T; Pendleton, Edmund; Pendleton, Edward; Perry, Alexander; Perry, Edward; Perry, William; Pickins, J; Quisenbury, Thomas; Ramsay, Peter; Randolph; Redferns &Co.; Reed, Irving & Co.; Reede, B; Richter; Rickets & Newton; Ricketts, Jhn Thomas; Riddle, Joseph; Riddle, Joshua; Robinson, Isaac; Rumney, Ann; Rumney, John; Rumney, William?; Rundle; Russel & Co., James; Sanderson, James; Sanderson, Jessy; Scott, David W; Scott, Richard M; Simms, Jessee; Simms, Jossee; Simms, Patrick; Simms, Thomas; Simpson; Slater; Smith, James; Smith, Samuel; Smith, William H; Smock, Esme; Smock, Esse; Southerland, A; Spooner; Stephenson; Stevenson; Stewart; Stoddart; Summer; Swan, Mrs.; Swan, Thomas; Swann, Thomas; Swift, Johathan; Tayloe, John Esq.; Taylor, Robert; Temple, Peter; Thompson; Voss; Vowell, Thomas Jun'r; Vowel, Thomas Sr.; Vowell, John; Walker, John; Walker, Musgrave; Walker, Robert; Wanton, Philip; Washington, Martha; Washington, William A Esq.; Watson, J; Wattles, Nathaniel; Watts, J; Watts, John; Weightman, Richard; Wherry &Co.; White; Whitlock, George; Williams, James; Williamson, Christopher; Williamson, Jonah; Williamson, Joseph; Willitt & Co., Beniah; Wilson, David; Wilson, James; Wise, Dr.; Wise, Peter; Witson, James; Young, Robert; Younger;
[VMWH] $27.00



---

VIRGINIA MERCHANTS: ALEXANDER SMITH & SON, ALEXANDRIA CO., VA, HIS LETTER BOOK OF 1803-1811 by Charles & Virginia Hamrick. 2004, x, 211 pp., index of names. The authors have provided a transcription of a letter book for Alexander Smith & Son, who operated a store at Alexandria, Virginia, This work elucidates the workings of the merchant and business class in Virginia during the period of the enormous growth of the new nation following the Revolution. It also points out the difficulties faced by merchants in a period of economic disruption just prior to the War of 1812. Eventually Smith was forced to close his business enterprise in 1811 and he became one of the entrepreneurial victims of the times.
[VMAS] $32.00



---

Alexandria City 1815 Directory of Landowners by Roger G. Ward. 2005. 62 pages, map, 5 1/2X8 1/2.
For a full description of the 1815 LAND DIRECTORY Records and a listing of available counties, see: Individual County Booklets, 1815 Directory of Virginia Landowners
[Vd43] $11.00



---

For more records pertaining to the Independent City of ALEXANDRIA, VIRGINIA see:

To order by phone, call 1-706-546-6740 M-F 8a-6p EST.
You may call the number above during business hours to check the status of an order, or
E-mail us
Click here for mail-order instructions.

To order by phone, call 1-706-546-6740 M-F 8a-6p EST.
You may call the number above during business hours to check the status of an order, or
E-mail us

Please see our HELP PAGE for mail-order instructions, wholesaler policies and other contact information.