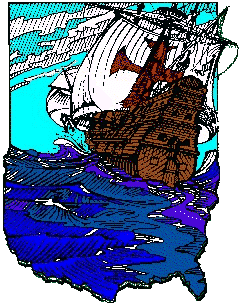 &nbsp &nbsp Home &nbsp &nbsp &nbsp Reference &nbsp Census Records &nbsp Military &nbsp Other States &nbsp New Titles &nbsp E-BOOKS &nbsp FREE SHIPPING

Iberian Publishing Company's On-Line Catalog:
Accomack County Virginia
---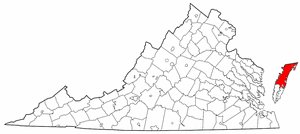 "Accawmack" County was one of the original eight shires created in 1634. In fact, it had begun to function as a separate political entity as early as January, 1632/33 Its Indian name meant "across-the-water-place". The Assembly changed its name to Northampton in March 1642/3. Accomack County was created in 1662 from the upper part of Northampton County and began to function as a county in its own right in April 1663. Between 1670 and 1674 Accomack and Northampton were reunited politically. The boundaries have not changed since its formation. The eastern and western boundaries are the Atlantic Ocean and Chesapeake Bay, respectively; its southern line adjoins Northampton and was defined in 1688. On the north it abuts the Maryland state line.
---
For a better understanding of county boundary changes, see our new section Virginia in Maps
---

ACCOMACK CO., VA 1810 CENSUS transcribed by John Vogt. 2013, 10 1/2 x 8 1/2, x, 53 pages, illustrations, map, full name index. This is the first surviving census for Bath, since both the 1790 and 1800 censuses have been lost. The transcription is in the order in which the enumerator took his census. Thus, neighbors appear together and this will assist the genealogist. Accomack was a rich agricultural area consisting of the northern portion of the peninsula east of the chesapeake Bay. It had an early settlement and a rich history. It is also noted for the large number of free African-Americans resident there in the beginning of the nineteenth century

This and other 1810 censuses are transcribed by the author from the original images, and while many of Virginia's censuses are available online, they oftentimes are replete with misreadings.Caveat emptor!

Family names included in the 1810 Accomack census are listed below:

Abbott; Abdel; Acom; Actworth; Adair; Adams; Addison; Agnus; Ailworth; Aimes; Alexander; Allen; Ames; Andrews; Annis; Arbuckle; Ardis; Arlington; Ashby; Augustus; Ayres; Badger; Bagg; Bagwell; Baines; Baker; Ball; Ballard; Bandy; Banks; Barclay; Barker; Barnes; Bayly; Bayne; Baywell; Beach; Beard; Beasey; Beasley; Beauchamp; Beavans; Beckets; Beckett; Beech; Beesley; Bell; Belote; Benson; Benston; Berry; Bethards; Bevans; Bigaby; Birch; Bird; Bishop; Black; Blake; Bloxam; Bloxham; Bloxom; Boggs; Boisnard; Bonwell; Booth; Boothe; Boston; Bowls; Bradford; Brewington; Brinney; Britington; Brittingham; Broadwater; Broughton; Brown; Bruce; Buckler; Budd; Bull; Bundick; Bundwick; Bunting; Burton; Butler; Callahan; Cameron; Carmine; Carpenter; Case; Chace; Chaco; Chance; Chandler; Chapman; Charnock; Cherrick; Cheshire; Christopher; Church; Churn; Churrick; Claim; Clayton; Cobb; Coke; Colany; Cole; Coleburn; Collins; Colony; Conner; Conquest; Copes; Corban; Cord; Core; Corgan; Cormer; Coruthers; Coward; Cowley; Coxon; Crigg; Crippen; Crippin; Cripping; Crockett; Cromwell; Cropper; Crossley; Crosswell; Crowson; Custis; Cutler; Dalby; Damerlin; Darby; Davis; Delastatious; Dennis; Derby; Dewey; Dickinson; Dix; Dockey; Dorman; Doughty; Douglas; Downing; Drummond; Duffey; Duncan; Dunkin; Dunstan; Dunton; Eashum; East; Edmond; Edmunds; Edwards; Elliot; Emerson; Evans; Ewell; Fields; Finney; Finny; Fisher; Fitchet; Fiterman; Flanagin; Fletcher; Floyd; Fluheart; Fogson; Folio; Foreman; Fortune; Fosque; Foster; Fox; Gardener; Garret; Garrison; Gaskins; Gaults; George; Gibb; Gibson; Giddens; Gillatt; Gladding; Glassin; Glenn; Godfree; Godfrey; Godwin; Goliah; Gore; Gray; Green; Griffin; Grinnalds; Gunter; Gussage; Guster; Gutridge; Guy; Hack; Hall; Hallatt; Hammel; Hancock; Handover; Hardy; Hargis; Hargus; Harman; Harmanson; Harmon; Harper; Harris; Harrison; Hart; Harvey; Hatney; Hattan; Hatton; Haunt; Hayley; Hays; Heaslop; Heath; Henderson; Hickman; Higgins; Hill; Hinman; Hitchins; Hoffman; Hogshear; Holden; Holland; Holley; Holliway; Holmes; Holston; Holt; Hope; Hopkins; Hornsby; Houston; Howard; Husk; Hustley; Hutcheson; Hutson; Ironmonger; Isaacs; Jacob; James; Jankins; Jaquish; Jenkins; Jester; Johnson; Jones; Joynes; Jun.r; Justice; Kellam; Kelley; Kelliam; Kelly; Kennyhorn; Kerr; Killman; Knight; Knox; Lambden; Lambdon; Landing; Lane; Lang; Langford; Latchem; Lawrance; Laws; Layfield; Laylor; Leatherberry; Lecatoe; Lee; Lewis; Lilleston; Lindsey; Lingo; Linton; Lion; Lipencut; Liston; Litchfield; Logan; Lombard; Lomboard; Long; Lucas; Lurton; Maddox; Major; Mapp; Mariner; Marshall; Martin; Mason; Massay; Massey; Matthews; McCrady; McHollams; Mcmaster; McMath; Mears; Medab; Medad; Melony; Melson; Melvin; Metcalf; Mezick; Middleton; Milburn; Miles; Milligan; Milliner; Mister; Monger; Moor; Moore; Mopp; Morris; Morrison; Moses; Mure; Myrill; Mysick; Natt; Nelson; Nicholas; Nock; Northam; Okey; Onions; Only; Outten; Owens; Paradise; Paramore; Parker; Parkins; Parkinson; Parks; Paul; Pepper; Pettitt; Pewsey; Phillips; Pickett; Piper; Pitts; Poor House, 18; Poulson; Powell; Pratt; Presscott; Prewitt; Pruett; Rayfield; Read; Rew; Richardson; Riggen; Riggs; Riley; Robbins; Roberts; Rodgers; Rofs; Rooks; Rowley; Rue; Russel; Russell; Ryley; Sample; Sanford; Satchel; Saulsbury; Saunders; Savage; Scarburgh; Scott; Selby; Sen.r; Seymour; Sharon; Sharpley; Sharply; Sharrod; Shay; Shepherd; Shield; Shores; Shreeve; Siggs; Silverthorn; Simpson; Singleton; Slocumb; Small; Smallwood; Smart; Smith; Smullen; Snead; Somers; Sparrow; Speight; Spires; Stakes; Stand; Starling; Staton; Stephens; Stephenson; Steward; Stinson; Stockly; Stran; Stringer; Sturges; Sturgis; Summers; Tank; Tarr; Tatham; Taylor; Teackle; Thomas; Thompson; Thorn; Thornton; Thurman; Tignal; Tignor; Tigur; Tindall; Toping; Topping; Townsend; Trader; Tree; Treehorn; Truitt; Tunnel; Turlington; Turnel; Turnell; Turner; Twiford; Underhill; Upshur; Vanter; Vessells; Vessels; Walis; Walker; Wallis; Wallop; Walter; Walters; Waples; Ward; Warnell; Warner; Warrington; Waterfield; Waters; Watson; Watts; Webb; Welburn; Welding; West; Westerhouse; Wharton; Wheatley; Wheelton; Whimble; White; Whittington; Wilkins; Wilkinson; Willas; Willatt; Willett; Williams; Willott; Wilson; Wimber; Winder; Windsey; Wise; Wisher; Wood; Wooldridge; Wright; Wyett;and Young.


[ACCO10] $19.95 &nbsp &nbsp (paper version)


---
The above title is also available as a digital e-book in PDF format:&nbsp &nbsp &nbsp &nbsp HOW TO ORDER
[EACCO10] $10.00 &nbsp &nbsp (electronic version)


---
Accomack Co. 1815 Directory of Landowners by Roger G. Ward. 2005. 52 pages, map, 5 1/2X8 1/2.
For a full description of the 1815 LAND DIRECTORY Records and a listing of available counties, see: Individual County Booklets, 1815 Directory of Virginia Landowners
&nbsp &nbsp [Vd01] $9.00


---
Accomack Co. Revolutionary Public Claims transcribed by Janice L. Abercrombie and Richard Slatten.. 2005. 8 pages, 5 1/2X8 1/2.
For a full description of the Virginia Revolutionary Public Claims and a listing of available counties, see: Revolutionary "Publick" Claims series [Pc01] $6.00 &nbsp &nbsp (paper version)


---
The above title is also available as a digital e-book in PDF format:&nbsp &nbsp &nbsp &nbsp HOW TO ORDER

[EPc01] $3.00 &nbsp &nbsp (electronic version)


---

For other records pertaining to ACCOMACK COUNTY, VIRGINIA see:

&nbsp





To order by phone, call 1-706-546-6740 M-F 8a-6p EST.
You may call the number above during business hours to check the status of an order, or
E-mail us

Please see our HELP PAGE for mail-order instructions, wholesaler policies and other contact information.